The East Kilbride Community Trust (EKCT) was the brain child of local philanthropist James Kean. It was incorporated as a company limited by guarantee on 1st April 2009, becoming a recognised Scottish charity (no. SC040731) on 8th August 2009.
James wanted to empower the community of East Kilbride and bring it together, cementing relationships through sport, horticulture, urban woodlands, coaching, community spirit and the good feeling associated with being part of a team after identifying that local sports clubs were unable to obtain affordable training facilities.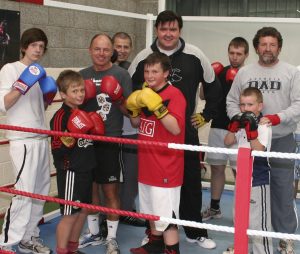 James decided to provide free training for sports clubs at his own home and this led to approximately three hundred children from a range of different backgrounds participating in boxing, judo, karate and football. It was the success of that venture led to the creation of this charity.
The overall objective of the charity being to bring the community together and promote a healthy lifestyle to everyone in East Kilbride as the EKCT aims to improve health and wellbeing through the promotion of sport and fitness related activities. Chief Executive Officer Monique McAdams has been involved with the charitable trust since inception and worked alongside James and his brother Paul to make a difference and help empower the community. They intend to further complement this by working tightly with all past, present and future partners.
Each of the board members is able to bring a different set of skills to help the Trust grow in strength and stature through their life experience, business experience and contacts. The Trust has been working to create harmony through recognised partnerships; to make the community safer, stronger, and healthier, delivering programmes and initiatives, which enhance opportunities and the lives of the people in East Kilbride.