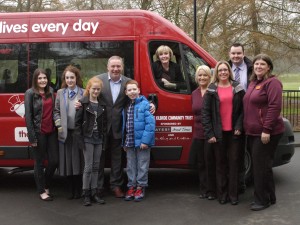 It may have been an overcast day however there were smiles and laughter all round when the Variety Sunshine Coach, sponsored by Stonegate Pub Company was delivered to The East Kilbride Community Trust.  With Trustee and friend of Variety, Ally McCoist presenting the keys to CEO, Monique McAdams, the Trusts long awaited day had finally arrived.
CEO Monique McAdams said:
"The East Kilbride Community Trust is over the moon at receiving this fantastic coach from Variety.  It will enable us to help more people in East Kilbride and widen the scope of the projects that we run for the enjoyment and well being of the community.  It should not go unnoticed or unmentioned that this was a community effort at fundraising.  Sainsbury's at Kingsgate played a massive part in attaining the bus and I want to thank them, their employees, their customers and everyone else that helped us on our journey of achieving this Sunshine Coach.
Currently the Trust supports over 200 children that are disadvantaged, with various disabilities including autism, learning disabilities, Aspergers, visual impairment and Epilepsy.
Over the past three years the Trust have created Community Allotments and Gardens for children with additional support needs (ASN), to promote and facilitate outdoor learning in line with the beliefs of the "Curriculum for Excellence" that are based on the recognition that if children have opportunities to be active, successful, confident and responsible, then they will grow into adults holding the same values and exhibiting the same behaviors.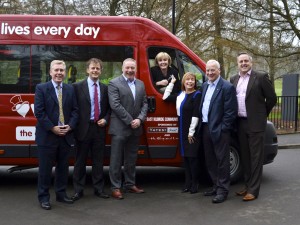 They are also extremely proud of their effective partnership working with "Move the Goal Posts" which is a multi-partnership diversionary programme that is used as a tool to divert young people from gang participation, anti social behavior and drug misuse. This initiative has been recognized nationally as exceeding all expectations in relation to attendance and crime reduction.
The Trust will also be using the bus when they are hosting their annual ASN Family Fun Away days, BBQ's and Christmas parties.  All of which are to encourage family fun and community engagement, fostering and strengthening relationships by promoting community development and improve social inclusion in East Kilbride.
EKCT Trustee Alistair McCoist said:
"These children play an important part in our community and I'm proud to be part of a Trust that looks to help them enjoy life as best as they can.  I take my hat off to everyone that got involved in raising the funds and want to thank Sainsbury's for choosing us as their charity partner as this played a big part in us achieving the bus"