Before EKCT took ownership of K-Woodlands on behalf of the local community, the woods were largely neglected, overgrown and unloved, with little benefit to people or wildlife. Over the last year or so, with the help of our volunteers and visitors, we have improved the habitat greatly by allowing more light to reach the woodland floor, planting new trees, hanging bird boxes and sowing wildflowers throughout our meadow areas. Now, with help from Grow Wild, we are all set to help nature even further by celebrate the wonder of wildflowers through our latest project… BUSHCRAFT BOTANICALS!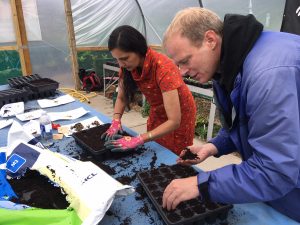 Our brand new Bushcraft Botanicals polytunnel will be the centrepiece of our community garden, allowing us to sow and nurture special woodland flowers together, to benefit people and wildlife. Our dedicated team of volunteers will then plant the flowers throughout the woods, before collecting the seeds later in the year to begin the cycle again. In the meantime, we will learn how to identify particular plants and find out about their traditional uses by teaching a wide range of bushcraft skills.   
Our Community Woodland Engagement Officer, Stephen, said "because the woods were left unmanaged for so long, we do not have a healthy carpet of woodland plants, like Wild Garlic and Bluebells. This vital funding from Grow Wild will bring the community together to grow the plants we need to make a healthy woodland ecosystem, while learning more about their traditional uses by making soaps, natural dyes, cordage and more."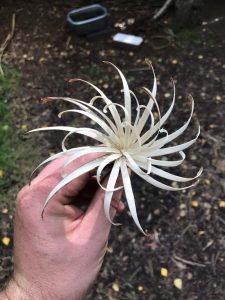 Since the Second World War mainland Britain has lost around 97% of it's wildflower habitat; which is an area one and a half times the size of Wales. As well as having less colour and wonder in our day-to-day lives, this decline has had a huge impact on our birds, butterflies and bees. Supported by the Big Lottery Fund, Grow Wild is the national outreach initiative of the Royal Botanic Gardens, Kew who, like us, believe the simple act of sowing native wildflowers can help reverse this decline – in an exciting way which helps reconnect people with nature.
If you would like to be involved in any aspect of the project, from building the polytunnel and nurturing tiny seedlings, to exploring the world of natural dyes, please contact us at k-woodlands@ekct.co.uk or visit our Grow Wild project page at https://www.growwilduk.com/community-projects/bushcraft-botanicals
EKCT would like to say a huge THANK YOU to Premier Polytunnels for offering a great discount on our polytunnel and, of course, to Grow Wild for supporting this fantastic project.