The East Kilbride Community Trust have planted hundreds of saplings at K-Woodlands as part of a mass countrywide tree planting initiative organised by the Woodland Trust, with support from Sainsbury's, IKEA Family, Yorkshire Tea and players of People's Postcode Lottery.
On Saturday the 17th of March local volunteers, disadvantaged groups, scouts and over 60 families came together to plant 420 trees throughout their local Community Woodland, to benefit the wildlife which thrives there. The planted species include Rowan, Hazel and Hawthorn, which were chosen because they provide a bounty of nuts and berries for the woodland animals.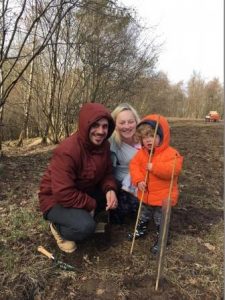 The Community Woodlands Engagement Officer, Stephen Porch, said "Just one oak tree can support a thousand other species, so we hope K-Woodlands will continue to be a haven for wildlife and a place for people to connect with nature for decades to come. We had a wonderful day planting our trees and we were blown away by the response from the community. There is no better legacy to leave than a tree you planted with your family, and we hope that everyone involved will visit these trees again and again."
Tracy Wilmot, the K-Woodlands Project Support Officer said "Despite the fierce weather conditions everyone left with a huge smile and a great sense of achievement. We look forward to welcoming everyone back again soon to help nurture our beautiful woodland, and to continue building a safer, stronger and happier community."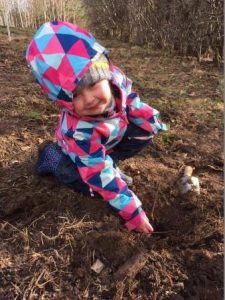 317,250 native trees from the Alba nursery outside Edinburgh have been distributed throughout the UK this spring – including 42,135 to Scottish schools and community groups.
Sanjay Singh, Senior Programmes Manager at People's Postcode Lottery said: "We are delighted our players are backing  this mass planting around the country, which does so much to enrich the environment while bringing communities together to do something wonderful."
Laura Burton, Senior Brand Manager at Yorkshire Tea, said: "Yorkshire Tea has a passion for trees which spans 25 years, which is why we have a five year Yorkshire Tree pledge in place to plant one million trees in the UK and Kenya. We're thrilled about the great work happening in Scotland and the proper benefits the local community will receive, from improved communal spaces to the environmental advantages."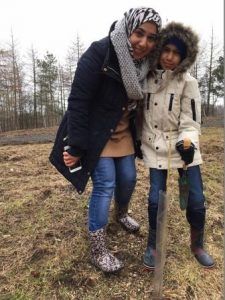 "Scotland once had 80% tree cover and it was said that a Red Squirrel could travel coast to coast without touching the ground" Stephen added, "Now woodland habitats are under huge amounts of pressure. In South Lanarkshire we have just 11% tree cover, which is significantly lower than the Scottish Governments target of 21% cover – so this event is helping to address a much larger issue."
Since 2016 the Community Trust has run over 370 free events which include Forest Schools, spoon carving workshops, movies in the woods and now tree planting. For further information on their upcoming events, or to volunteer in the woods, you can contact the Community Woodland Engagement Officer on 01355 235986 or email k-woodlands@ekct.co.uk