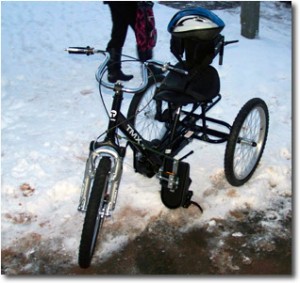 East Kilbride's favourite son returned to the town on Thursday in the name of charity. Scottish football star, Ally McCoist, presented eight-year-old Thomas Pettigrew, who has Asperger's Syndrome, with a new trike on behalf of East Kilbride Community Trust.
Thomas, from Calderwood, cannot walk and the £850 trike allows the St Hilary's pupil to exercise and have fun like other children his age.
Ally was instrumental in the Trust being founded and recently came on board as a trustee. The Rangers assistant manager said: "Meeting a wee man like Thomas makes it all worth it. It is massively important to give back to the community where I was born and bred – I even went to school with Thomas' dad, it's that small a world."
The aim of the Trust is to bring the East Kilbride community together and to keep children off the streets by providing them with activities and places to go, including the current development at Calderglen Country Park, which will be open to kids with additional support needs, such as Thomas.
Trust Secretary, Monique McAdams, said: "The charity is made up of local boys – Ally, Liam Donnelly and James and Paul Kean – who care about East Kilbride and are now in a position to give something back to the community. As well as giving donations, they also give up their time to volunteer with groups in East Kilbride."
Monique met Thomas' mother, Catherine Pettigrew, last year and heard how he had outgrown his trike, but that there was no funding for a new one. Monique was sure the East Kilbride Community Trust could help. The board unanimously agreed and organised the delivery of a new trike.
Catherine, 49, said:
"We are all so grateful to East Kilbride Community Trust for their kind donation. Thomas can't walk or stand but can pedal this trike no problem. It has made a world of difference."
Kayleigh McLeod, East Kilbride Mail.